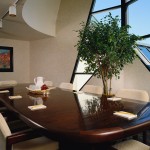 DIRECTORS/OFFICERS
President, Anita (Sandy) Stone
Vice President, Teresa Magee
Secretary, Jean Davis
Treasurer, Arne Jerde
Director, Jetta Ostrofsky
ALTERNATE BOARD DIRECTORS
Alternate Director, Joyann Richardson
ARROWHEAD HOUSING, INC., (EG MANAGEMENT & MAINTENANCE STAFF)
Jennifer Michon, COS/President
Pam Flores, Sr. Property Mgr.
Deborah Mohamed, Community Director
Joe Mohamed Jr., Maintenance
After hour Building Emergencies: (916) 485-7368
Board of Directors Code of Ethics: EG Director's Code of Ethics
The role of a board of directors is to oversee operations and set policy. Just as boards have limited authority, so do individual directors.
Fiduciary Duty. "A duty to act for someone else's benefit, while subordinating one's personal interest to that of the other person. It is the highest standard of duty implied by law.
Upon their election to the board of a common interest development, directors become fiduciaries with powers to act on behalf of the association. As fiduciaries, directors are held to a higher standard of conduct and have two primary duties: (i) duty of care, and (ii) duty of loyalty. This applies to directors of both incorporated and unincorporated associations.
DUTY OF CARE (Due Diligence). Directors must be diligent and careful in performing the duties they have undertaken. (Burt v. Irvine Company). Directors must:
Attend and participate in meetings so they can be informed about the association's business.
Make reasonable inquiry re maintenance issues, rules violations, etc.
Make decisions.
Keep corporate records.
DUTY OF LOYALTY (No Self-Dealing). Directors must act in the best interests of the association even if at the expense of their own interests. This is more than just embezzlement of funds; it includes steering contracts to family members and other forms of personal benefit at the expense of the membership. Violation could result in (i) liability for all profits received, (ii) all damages caused by the breach, and (iii) punitive damages. "We note that the duty of undivided loyalty applies when the board of directors of the association considers maintenance and repair contracts, the operating budget, creation of reserve and operating accounts, etc. Thus . . . [directors] may not make decisions for the association that benefit their own interests at the expense of the association and its members." (Raven's Cove v. Knuppe)
 Ethics Policy. Eastern Gardens has adopted a written ethics policy to guide directors and govern their behavior. (See Director's Ethics above)
Business Judgment. Directors are protected from personal liability provided they fulfill their duties of loyalty and care, and meet the requirements of the Business Judgment Rule. Conflicts of interest do not necessarily create liability if handled properly.