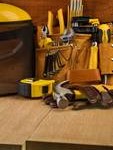 Eastern Gardens has established procedures when it becomes necessary for you to report building maintenance discrepancies, either in person, by phone or a simple email. Whichever you do, please remember these things to do.
Give your name and apartment number
The problem or discrepancy you are experiencing
Emergency or non-emergency
A call back number, and
Permission to enter if you're not going to be there
If by Phone: Please call the business office @ 489-1604, if there is no answer please leave a voice message as instructed on the recorder. And remember to please be nice. Every call will be treated in the order of importance.  For all other questions or concerns not related to maintenance or repairs, (i.e., policies, rules, regulations, and bylaws…etc.), please submit a letter to the board of directors.
If by E-mail: Contact Mrs. Deborah Mohamed manager.easterngardens@gmail.com
In management's absence, whether out sick or on vacation the following procedures will apply:
Building Emergencies – Work required is to ensure the safety of personnel and to prevent structural damage, such as, water breaks or electrical hazards, which requires an immediate response, please contact
Non-Building Emergencies –  Routine work that can wait more than 24-48 hours which can be scheduled at your earliest convenience. This includes routine repairs, preventative maintenance or modification work, please call (916) 489-1604, the messages are checked daily by maintenance and/or management staff.
Personal Emergencies –  Is a Personal Situation that threatens human life or personal property and demands immediate attention, such as, Medical, Burglary, Fire, Theft and Assault – DIAL 911
Non-Personal Emergencies – Personal situations that are not life threatening, please contact the Sacramento County Sheriff's Department's non-emergency number @ (916) 874-5115
NOTE: Eastern Gardens and its managing staff are not authorized nor budgeted to conduct janitorial or housekeeping duties, for example, they do not clean or unclog the member's commodes, change light bulbs, clean showers, tubs, sinks or other housekeeping items. This is the responsibility of each resident/member.
"Safety is extremely important to us and will always receive first priority."